Zen and Now
A Few Best Practices for 2016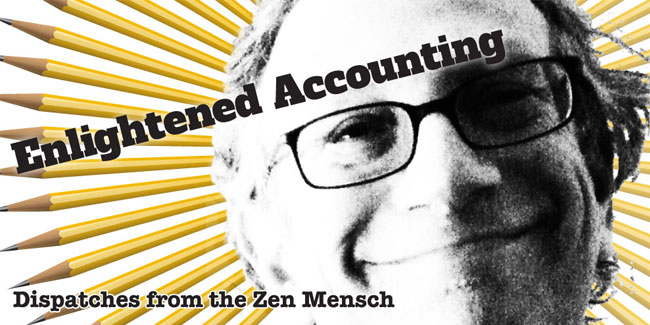 The beginning of the year is a good time to check your withholding allowances. Are you perpetually behind, or need more money in your paycheck? Remember that you can claim any filing status and number of exemptions on the W-4 for your regular withholding during the year. Read my article.
Don't rely on 1099's to tabulate your income, free-lancers. You are responsible for reporting your income accurately, whether or not you receive a 1099. Business owners, make sure your contractors fill out IRS Form W-9 before you hire them, so you can issue them a 1099 if needed. (Doing someone a "favor" by not issuing them a 1099 means that we're all paying their taxes.)
Insurance: Businesses, do you have a "fidelity bond" or employee dishonesty insurance"?  On my first non-profit audit we discovered embezzlement. One of my first business engagements was investigating fraud at a large medical practice. Appropriate controls are important to reduce the threat of fraud; appropriate insurance is necessary to help you recover in case it does happen.
Elder care planning:  Another relaxing subject! Nevertheless, a necessity for kids and parents to start discussing. Contact me to discuss further and to be directed to appropriate resources.
IRS Letters! Don't panic if you get them, but don't sit on them either. Because of the IRS' woeful budget, errors are plentiful and corrections are slow —  you may be getting bills for $12,000 when I sent in the correction making it a refund months ago, but they have not processed it yet.  But don't be like the non-profit that passed the envelope around like a hot potato for a year without opening it; as a result they missed deadlines and had to appeal to have several thousands of dollars in penalties waived.
UPCOMING EVENTS
I will be back at the fabulous Artisan's Asylum makerspace in Somerville, MA on Thursday night January 21, 2016 to discuss Tax and Incorporation issues. Join me at 7pm for a short talk, gathering, and refreshments. Free, register here.
NEW BUSINESS CHECKLIST!
Thinking about establishing a small business in Rhode Island? Check please read this article for a list of essential steps, from deciding on your legal structure to staying in good standing on an annual basis.