Don't Be Stupid Keep
Your Business Filings Current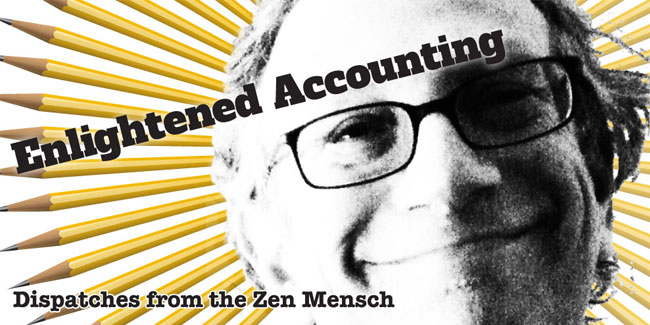 Q: "Why did the State revoke my charter? #$???!!
–Cursed in Cranston (Rhode Island)
A: Incorporation and organization (the rough equivalent of incorporation for LLC's)  are established under the auspices of state government.
As such, your entities must generally file reports and pay fees, usually annually and to the Secretary of (your) State, to remain in "good standing." The renewal forms are generally easy — we are not talking a tax return here — and the fees can be less than $100. Often you can do the transaction on-line.
Failure to renew can result in the revocation of your corporate charter — in other words, your entity is no longer legit in the eyes of the law and you have forfeited your legal shield.
(Yes, my firm can help you incorporate. And  to make sure you "incorporate right", click here. )
Q: They didn't tell me!
–Furious in Philly
A: I'm skeptical.  States are required to notify you. (Renewal dates vary — in Rhode Island for instance,  non-profits  renew in June, LLC's in September and October, and corporations in January and February.)
Notifications are sent to whomever you designated as the "resident agent" (or equivalent title) when you first registered. That could be your lawyer if your lawyer is handling the renewals, or it could be you.  Did you move and not notify the state? (There are appropriate forms.) Or was it the original founder, who long ago sped away? Or are you a non-profit and the original board resigned in a food fight two years ago and no one remembers?

Doesn't matter! It's your responsibility — as the executive director or board chair. And it's easy to check — most states have a "corporate database" that is online and publicly available. You can find out the current status and view current filings. Sometimes I am the one to tell the client — "you've been revoked!" Why don't you check right now? Click here for Rhode Island and here for Mass.
Q: I can always reinstate — right?
–Ridiculous in Revere
A: Oftentimes yes,  but this is not a great way to operate. (I have one client for whom this is an annual exercise.) For one thing, you lose the corporate legal protections in the interim. And then there is the time and the expense — you are at the whim of the state, which then also has the right to demand that all your obligations be made current before they reinstate you — so if you are behind on corporate tax returns or even sales tax returns — watch out.
COMING EVENT!
Eager to set your business up right? Come to my free presentation, "Structuring Your Self-Employment for Success", at Rochambeau Library in Providence on September 16. Details here. Open to (members and) non-members of the Providence Entrepreneurs Meetup Group, the kind sponsor.
BECAUSE YOU ASKED
Back in 1975 I  co-authored a "landmark tenant research report" about a notorious Boston landlord, Maurice Gordon. It was a muckraking adventure and ran nearly 180 pages. Gordon was most infamous for a 1971 fire in Boston's Fenway district.  Eight people died in a building lacking fire extinguishers and with bags of rubbish in the hall. Maurice, alas, was Jewish and there were protests at his synagogue.
The accompanying cartoon, from the Boston Phoenix, part of a collage in the book, is a commentary on Gordon's close  ties to then Boston Mayor Kevin White, in the top hat.
My elaborately detailed report, with news clippings and flowcharts of connections, was summarized and reprinted in a series in a local newspaper. See below.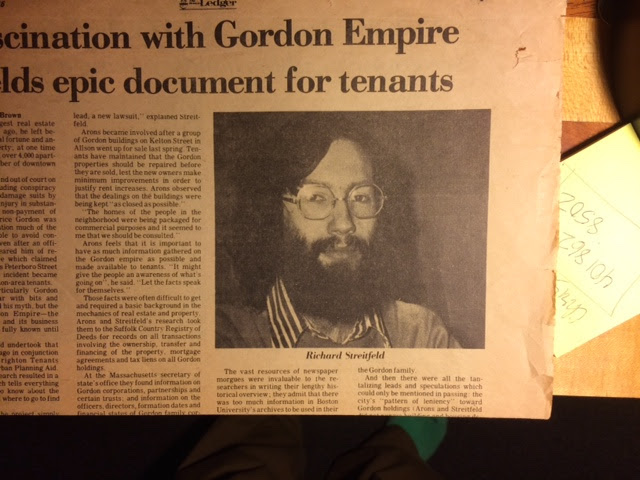 I totally loved the project, which I also managed to use as credit for two college courses at Boston University.
Because you asked. And by all means, keep asking.